Representatives of DIGITAL & MOBILE jury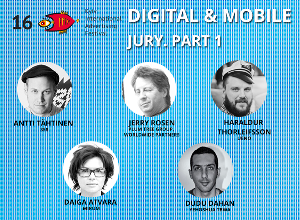 The organizing committee of the Kiev International Advertising Festival announces first part of DIGITAL & MOBILE jury. In this year, the most creative digital-projects will be chosen by experts from Europe, USA and the Middle East.
In the DIGITAL & MOBILE categories will be assessed all digital projects implemented from January 2014 to April 2015 - websites, online advertising, mobile applications, social media campaigns. Also, the organizing committee invites participants to submit work in crafting contest category of DIGITAL & MOBILE, in which judges will appreciate the illustrations and graphics, copywriting skills, video, animation and motion design.
First representatives of DIGITAL & MOBILE jury:
· Antti Tähtinen, Creative & Senior Copywriter, 358, Finland
· Daiga Atvara, Global Chief Design Officer, Mirum, USA
· Dudu Dahan, VP Digital & Innovation, Yehoshua TBWA, Israel
· Haraldur Thorleifsson, Creative Director, Ueno, USA
· Jerry Rosen, Founding Partner of PLUM TREE GROUP, Vice Chairman of Worldwide Partners, USA
The jury of the contest will be complemented with new names.
The organizing committee is actively working on the formation of the jury of the 16th festival, which this year will consist of 6 parts: FILM & RADIO / PRINT & POSTER, FILM & RADIO CRAFT, DESIGN, DIGITAL & MOBILE, MEDIA, ADVERTISING CAMPAIGNS.
Pay attention, deadline is on April, 24.
If you have any questions, please contact the organizing committee: (044) 490-90-30, festival@vrk.org.ua - Ekaterina Hrabovska, project@vrk.org.ua - Olga Podgorskaya.